Enjoy A Healthy Bastrop, TX Home With Our Indoor Air Quality Services
Centex Air & Heat is committed to offering the most advanced and cutting-edge indoor air quality technology to help you maintain a healthy home. The air in your home can be up to 5 times more polluted than the air outside, so it's vital for you to take steps so you and your family can breathe easier. Luckily, there are a number of options that work hard to clear the air and keep your home thriving.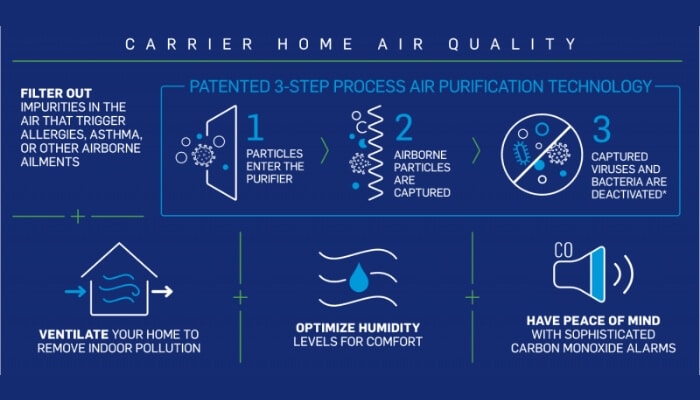 What Indoor Air Quality Products Do You Offer?
We partner with Carrier® to offer the following products:
Infinity® Air Purifiers
Infinity® Air Purifierswork silently with a home's HVAC system and can help improve indoor air quality. This air purifier uses Captures & Kills™ technology to trap up to 95% of particles such as pollen, animal dander, bacteria and other pollutants, then uses an electrical charge to kill or inactivate up to 95% of particles between 1.0 and 3.0 microns trapped on the filter.
Performance™ Series Whole-Home Dehumidifiers
Performance™ Series Whole-Home Dehumidifierswork quietly to wring out humidity from the air so homeowners can save on utilities and be comfortable. They're designed to be configurable with the home's existing system in a multitude of ways or operate independently away from the system if space is a problem.
Carrier® Humidifiers
Carrier® Humidifierscan "moisturize" dry, heated, winter air, making a home feel more comfortable. Properly humidified air can help relieve the discomfort of dry nasal passages, itchy skin and static shocks.
Carrier® Whole-Home Ventilators
Carrier® Whole-Home Ventilatorsoffer a controlled solution for bringing fresh outdoor air into the home. They're efficient because they ventilate without the energy loss one would experience through an open window or screen door. Whole-home ventilation is more important than ever with today's more tightly sealed, energy-efficient homes that tend to trap airborne pollutants circulating throughout the home.
Performance™ Germicidal Ultraviolet (UV) Lamps
Performance™ Germicidal Ultraviolet (UV) Lamps are designed to kill the mold and bacteria that can grow in the moist environment of the indoor coils to help keep the system efficient and clean air flowing.
Breathe Easier With The REME HALO Air Purifier
This powerful tool is easily installed into your existing HVAC duct system to reduce unwanted contaminants in every cubic foot of air within your home or business. The REME HALO creates ionized Hydro-Peroxide plasma that circulates throughout the entire duct network and into the conditioned part of the building, destroying pollutants like:
Viruses
Bacteria
Mold
VOCs
Odor particles
For Clean Indoor Air, Call Centex Air & Heat Today!
Our family-owned company has served the Bastrop County area since 1984, providing award-winning service to our customers. Creating the best indoor air quality in your home can be a challenge; there are many products and factors to consider. We will work with you to figure out what your home needs to keep you and your family breathing clean air. Let our experienced, licensed and trusted technicians answer your questions about indoor air quality - send us a message online or call 512-303-6060 today!