Professional AC Maintenance To Keep Your Bastrop, TX, Business Humming Along
When you or your tenants are at work, you expect your heating and air conditioning to work. Unfortunately, commercial HVAC units are just as susceptible to breaking down as residential units. Regularly scheduled maintenance is crucial for the life of your commercial air conditioning system. A professional can help prevent unexpected and expensive repairs and keep your system running efficiently. Our dependable, fully certified team of technicians keeps your heating and air conditioning running reliably at your business or commercial property.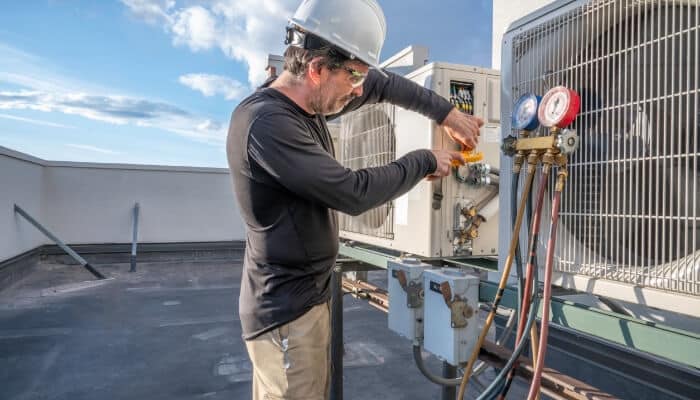 What Is Involved In An Air Conditioning Maintenance Appointment?
When your trusted Centex Air & Heat technician arrives, they'll be:
Inspecting and maintaining the HVAC system's components – including cleaning condenser and evaporator coils, clearing drain lines and pans, lubricating motors and other moving parts, checking electrical connections, replacing filters, and checking the condition of belts.
Checking refrigerant levels.
Identifying and resolving ductwork leaks.
Performing a system diagnostics check.
With service customized to your specific needs, we make sure that your heating and air conditioning keep working, so you can too. Make sure you have the highly trained, trustworthy team you deserve, and call us today to make sure your commercial HVAC equipment is working in peak condition.
Save Money & Improve Comfort At Your Business With Regular Maintenance!
There's no doubt that one of the best cost-saving measures you can take at your business is to make sure your HVAC system is properly maintained. That's where the experts at Centex Air & Heat come in. To schedule regular maintenance for your system, send us a message online or call 512-303-6060 today!